Policies & Procedures
Parent and Student Information
Programs at Kaleidoscope's Performing Arts Studio foster creativity, self-expression and self-confidence; teach children and youth about history, diverse cultures, literature and the arts while making learning engaging and entertaining; and help to create in youth a lifelong appreciation for the arts in our community.
Theatre classes at Kaleidoscope's Performing Arts Studio help young people learn life skills such as critical thinking, articulating a vision, developing self-confidence and self-discipline, problem solving, working in group settings and decision making.
All Kaleidoscope Education programs have set standards, policies, and procedures. Questions around policies and procedures should be directed to the Kaleidoscope Education Coordinator.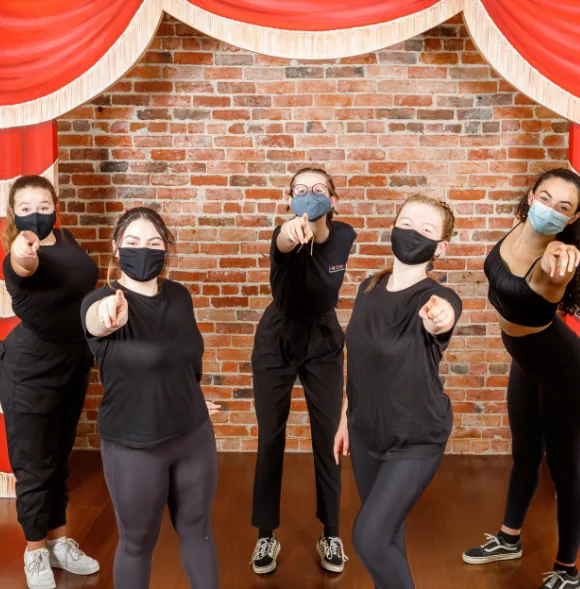 Communicable Diseases
The health and safety of our students, staff, and families is important to us. Students are not permitted to attend class if they are exhibiting any symptoms of a cold, flu, or COVID-19, such as fever, cough, shortness of breath, sore throat and difficulty swallowing, coughing or sneezing, or other symptoms as described by the Public Health Agency of Canada, the BC Ministry of Health and BC Centre for Disease Control. Any student that attends a Kaleidoscope class with these symptoms will not be permitted in the facility.
Communication
Kaleidoscope's primary method of communication to families is by email. Please ensure that your email address is kept up to date. Registered students can do this by logging into your Parent account. An invitation to create a parent account is sent to all new families upon registration for their first Kaleidoscope program.
Age
Students enrolled in session-based programs must be the age of the specific class by the end of the term the program occurs in. Kaleidoscope Theatre for Young People reserves the right to withdraw students who have been registered in an incorrect age category. To register a student in a program where they are turning the program-age mid-program, please call our office to complete registration by phone. Students must be registered in the classes that correspond with their age. Students may register for a program based on their age at the end of the term.
Program Changes
Instructors or program content may change at Kaleidoscope's discretion, without notice. Information on our online registration system should be considered the most up-to-date. Some programs and classes may have specific requirements and policies. Please contact our Education Department for more more info.
Diapers
For the courtesy of our faculty and other students, we can only accept students who are potty-trained. Pull up diapers not allowed.
Fees
Applicable program fees must be paid in full upon registration. Payment can be made by VISA or MasterCard. Registration Fees can be paid on a payment plan. Payment plans are available for most classes. Payment dates are pre-determined and are non-negotiable.
Attendance
Every child who attends a class at Kaleidoscope Theatre for Young People must be registered. Instructors do not have the ability to register students. Attendance is taken at the beginning of each class and unregistered students will be asked to leave. If you are unable to attend a class, please contact our offices by phone at 250.383.8124 or email
education@kaleidoscope.bc.ca or contact your instructor directly. To contact a staff member by email please use the staff member's first name, followed by kaleidoscope.bc.ca (Example – Jane Doe: jane@kaleidoscope.bc.ca).
Removal for Conduct
Kaleidoscope Theatre for Young People reserves the right to remove any student or parent who fails to comply with its rules and regulations, or who engages in any activity deemed contrary to the fulfillment of KTYP's objectives. In such an event, KTYP will be owed the fees for the complete session.
Dress Code
For Group Classes – all students are required to follow the Kaleidoscope Dress Code. "Industry Standard Black" is mandatory for all students. The following items are prohibited: sandals, flip-flops and miniskirts. Students not meeting attire requirement will be considered unprepared may be asked to leave the classroom. Students should wear clean clothing and footwear appropriate to the activities of their classes. Clothing with offensive language is not acceptable. We encourage students to dress comfortably in clothing that that they can move in that wont restrict their participation in class. Industry standard black is mandatory for all group programs. For private voice lessons, spring break, pro-d, and summer camps, Industry Black is not required.
Class Cancellation Policy
Kaleidoscope Theatre for Young People reserves the right to cancel classes that do not meet minimum enrollment. Minimum enrollment numbers depend on studio capacity and availability of materials. Under most circumstances, cancellations will happen one to two weeks prior to the start date and families will be notified via phone and email. Students from cancelled classes may be transferred to another class free of charge. For classes with low enrollment, classes will run for up to two weeks plus two days before a cancellation decision. A pro-rated refund will be issued. KTYP will strive to provide a substitute rather than cancel a class in the event of instructor illness. In the case of such a cancellation, a replacement attendance date is scheduled. If it is not possible for KTYP to schedule a replacement attendance date, a pro-rated refund is supplied to all affected clients. No refund or make up is eligible for students who miss class.
Parent Pick-up
Kaleidoscope Theatre for Young People is not responsible for students before or after class time. KTYP will consider chronically late pick-ups of your child a request for individual coaching, and bill at a rate of $50/hr for such.
Language
For safety reasons, all students must have a comprehensive understanding of English before attending classes.
Medical/Learning Needs
Parents/guardians are required to inform Kaleidoscope Theatre for Young People at the time of registration of any allergies, or physical, emotional, or learning needs their children may have.
Weapons
Students are prohibited from possessing prop firearms, knives or any device that has the appearance or function of a serviceable weapon in our around KTYP Studios and the University Heights Centre. Prop weapons may be used in classes and performances only with prior approval or supervision of KTYP faculty or staff and with the prior approval of KTYP administration.
Extreme Weather Closure Procedure
In times of extreme weather, Kaleidoscope's Performing Arts Studio's closure procedure aligns with that of the Victoria public school district. In the event public schools are closed due to weather conditions, Kaleidoscope classes are also cancelled. Please check local radio, television, and school board websites for school closures. Closure notices will also be sent by email and posted on KTYP social media platforms.
Acknowledgement and Assumption of Risk
The health, safety, and wellbeing of our artists, staff, and patrons is of the utmost importance to us, and always has been. Due to the risk of exposure to the COVID-19 virus, we have implemented some new procedures designed to protect and promote everyone's health and safety. KTYP's COVID-19 Safety Plan can be viewed online. All students are required to have a completed and accepted Acknowledgement and Assumption of Risk Waiver on file before participating in a Kaleidoscope Program during the COVID-19 Pandemic.
Safe Space Policy
Kaleidoscope Theatre Productions Society is committed to providing a safe place for students, parents, faculty, and staff, without fear of being made to feel uncomfortable, unwelcome, or unsafe on account of sex, race/ ethnicity, sexual orientation, gender identity or expression, cultural background, age, beliefs, or physical or mental ability; a place where the rules guard each person's self-respect and dignity and strongly encourage everyone to respect others. Decisions by Kaleidoscope Theatre concerning casting, employment and every aspect of the individual's relationship and participation with Kaleidoscope are based on talent and qualifications without regard to race, colour, sexual orientation, religion, sex, age, nationality or ethnic origin, disability, and/or other categories protected by law. In regards to casting - Kaleidoscope is dedicated to reflecting Canada's rich mosaic of cultural diversity, and encourages submissions from artists of all ethno-cultural backgrounds.
Students or adults who fail to respect other members or participants may be asked to de-register.
Kaleidoscope is committed to a safe, respectful environment for all and has clear policies on these issues.
Private Voice Lessons
The above policies apply for all voice lessons. In addition:
Maximum Instruction Time
45 and 60 minute private voice lessons are reserved for students age 12 years of age and older. Students younger than 12 years of age are restricted to a maximum 30 minutes of private instruction time in a single day. No exceptions.
Reserved Lesson Times
Individual class times can only be used by the student registered for that class time and cannot be switched, transferred, or used by another student. Class times are not transferable to other students unless prearranged in advance with the instructor and approved by the school director in writing. If a student does not attend their scheduled class due to illness, personal choice, or other extracurricular or school activity, their unused lesson time may be extended to other students for makeup lessons only at the discretion of the instructor. Reserved lesson times not used by the student registered for that class time cannot be shared or claimed by other students without prior written approval from the instructor.
Instructor Absence
As Kaleidoscope employs a working faculty, it is possible that the instructor may be absent to work on a production. In the event that the instructor is to be absent for more than one consecutive week, make-up classes will be offered if the student desires, and any un-made-up classes will be refunded or held on account as to the wishes of the student
Student Attendance & Make Up Lessons
If the student misses a lesson due to illness, personal choice or other extracurricular or school activities, the instructor may, but is not required to, offer a make-up lesson. There are no refunds for missed classes. A maximum of 2 lessons per term may be offered as make-ups. Makeups are not guaranteed and subject to availability.

Makeup classes for student missed classes will only be offered during the pre-determined Makeup weeks at the end of each term unless prior arrangement has been made with the instructor. Makeup classes for student missed classes are not guaranteed and are offered on a first come, first served basis. If the instructor is sick or unable to attend a scheduled class, a make-up lesson will be provided and will be scheduled at a mutually agreeable time outside of the regular makeup week. In the event that a makeup lesson for a class cancelled by the instructor cannot be arranged, then the fees paid for that class will be refunded by the theatre or held on account as a credit for future classes. Scheduled Make-up lessons that are cancelled or missed by a student will be considered made-up. Lessons cancelled due to inclement weather or teacher unavailability will be made up during the semester at a mutually-agreed upon time, or at the end of the term.
Withdrawls, Refunds and Cancellations
Withdrawal and transfer requests must be received in writing. Non-attendance or non-payment of outstanding fees does not constitute a formal withdrawal.
Requests related to Withdrawals, Cancellations, and Transfers may be emailed to education@kaleidoscope.bc.ca.
Fall, Winter, & Spring Session Group Classes
Transfers to another program: No Charge. Transfer must be into another class that term. Transfer requests will only be considered during the first two weeks of a term.
Deadline to Withdraw: 7 Days prior to start of first class for full refund, 24 hours prior to the start of the second class for credit. Credit is valid for 1-year, after that time the credit expires.
Cancellation Fee: $25
If you cancel your studio registration after it has been processed but at least one week before the class begins, Kaleidoscope will refund the cost of tuition less a processing fee of $25.00 and any other fees associated with the course above the base course fee. Cancellations of registration made less than seven (7) days prior to the start date of the class, workshop, or camp, but 24 hours prior to the start of the second class will receive a credit towards future programming for one year. After this date, no refunds or credits will be applied.
Spring Break & Summer Camp Programs
Cancellation Fee: $30
Transfers to another program: No charge. Transfer must be to another program during season.
Withdrawals: 7 days before start of the program for a full refund. No refund or credits will be permitted after the deadline.
Pro-D Day Camp
After payment has been processed, registration is final. Refunds for Pro-D Day Camps will be applied as a credit.
Withdrawals: 7 days before start of the program for a full credit. No refund or credit requests will be permitted after the deadline.
Private Voice Lessons
Withdrawals:
$50 Cancellation Fee and any other fees associated with the course above the base course fee
Requirements:
1 Month (4 Classes) Written Notice.
Deadline to Cancel Registration:
14 Days prior to start of first class for full refund.
Program Cancelation
Should a full program be cancelled by Kaleidoscope for any reason, a full refund, minus the pro-rated value of any class already passed, will be issued. Refunds past the date mentioned above will only be considered due to serious illness or injury and will be subject to the provision of a doctor's letter. In the event that in-person instruction is not possible due to extreme weather, pandemic, government order, or other cause that is out of control of Kaleidoscope Theatre for Young People, a virtual class on an online platform will be offered to provide for a continuation of learning. In this event, all policies, including refund and cancellation still apply.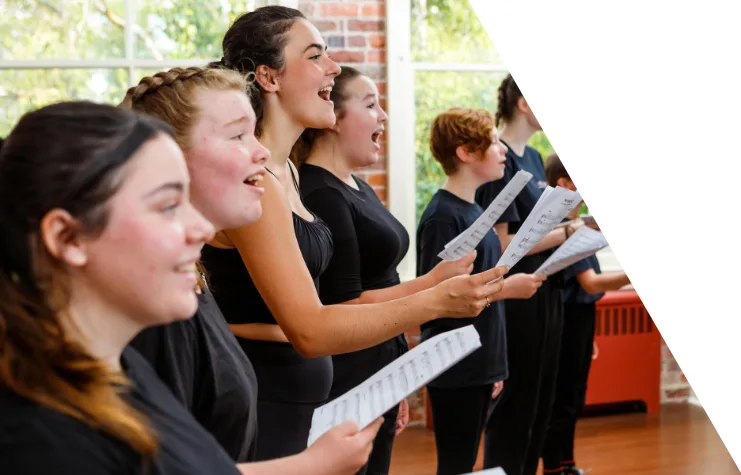 Student Handbook
Find detailed policies, procedures, and studio information in our Student Handbook. Printed copies are available at the Kaleidoscope Arts Centre.
Contact Us